Category:
Meet the Artist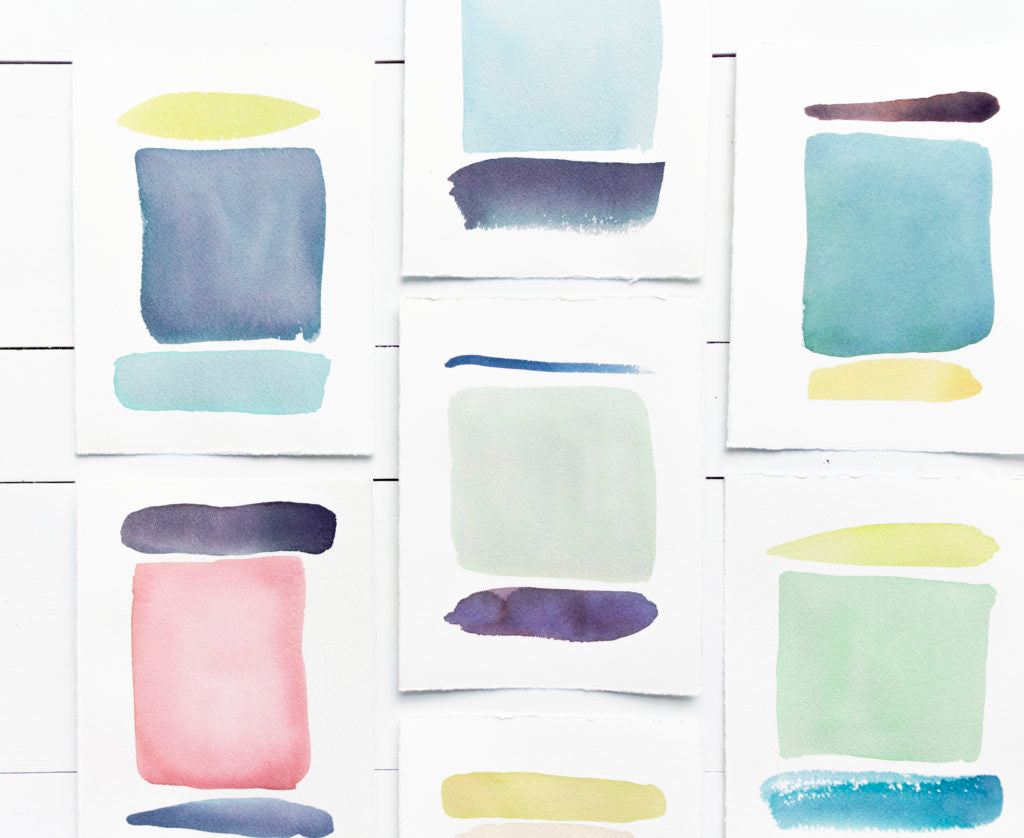 Nealy Hauschildt's paintings explore the natural world through color and shape. Highly expressive in style, her luminous watercolors capture the essence of land, sea, and sky and explore our innate attraction to these fundamental elements. Hauschildt channels her feelings toward nature into washes of paint, layering transparencies of color, to achieve soft and subtle undulations. We sat down with Nealy to learn more about her inspirations and motivations for creating these stunning works.
(more…)
---
Amelia was an early pioneer in the RedDot Culture and it has been amazing to watch her progress as an artist. From her billowy watercolor illustrations to her freeform torn collages, every piece is thoughtful, unique and striking. We sat down with her to talk about inspirations, her dinner table and her love of her home country, Colombia.
(more…)
---
California-based artist Caitlin Carney uses abstract shapes and bold colors to portray her real world life experiences. Her work is accessible to collectors at all levels, but in case you need convincing, here are four reasons you should be collecting work by Caitlin Carney.
(more…)
---
"I listen to audiobooks from the library while I paint. The moods of the stories seep into my work for sure, color choices are impacted and especially the flow of my work."
One look at Molly Murray's floral beer can series and you can't help but smile. Read on below to learn more about her evolution and inspirations as a self-taught artist!
(more…)
---
The process of creating and the discussion about the nature of art inspire Ashley's teaching as well as her work. Her work is about the process, the experience of creating something new. We sat down with her to talk about her process and the inspirations for her work, as well as some common misconceptions about contemporary art.
Fill in the blanks:
My favorite medium is: If I have to choose just one it would be Paint… but I also adore ceramics. I've always been drawn to what can happen when layered, thinned, mixed with other mediums, etc. and love LOVE the textures and finishes. Ceramics because it really brings you into your body and helps to disconnect from the outside world & noise.
I started creating in (year): Since I could hold a crayon – though my first 'official' painting lesson was in 1995.
I am a full time/part-time artist (choose one): Part-time, with the goal of being a full-time creative.
A common misconception about contemporary art is: The fear of looking at or engaging with because of the fear of "I don't get it." The wonderful thing about (any) art is you can bring your own experience to it. You don't have to like or "get" everything, but if you spend the time to engage with a piece and ask yourself questions, it's a wonderfully rich area of reflection and discussion.
A common misconception about contemporary artists is: Their work is too expensive or that it should be easily discounted. One of my favorite artists once said to someone as they said they loved a particular piece in his body of work, "it took me 40 years." Each work of art is the culmination of experience, perfectly – or not so perfectly- captured. If there is something that resonates with you, there is a reason for that and that should be respected and paid for fairly. In anyone's career there are always growing pains, mistakes, set backs, and successes… artists often only get paid for the latter.
The most surprising thing I've discovered about collectors is: I've been pleasantly surprised to find collectors always want to know more about the artwork, artist, process, etc. A work of art is an object that represents more than just paint on paper, it holds many stories – a collector is someone that wants to engage with and share those stories.
My most unorthodox source of inspiration is: Boredom (without a phone in hand) – which might not seem unorthodox but I believe in the era of overstimulation and smartphones boredom is hard to come by and wholly undervalued.
The one piece of advice I would give people who want to start collecting art is: Buy your first piece! I know the first one can be scary but once you hold that first piece in your hands and get it on your walls, you'll open up the opportunity to create your own collection that highlights your own voice and even milestones in life. If you're nervous, find an artist whose work you love and talk to them, if you love and believe in their purpose, you have absolutely nothing to lose!
A few more questions…
Living or dead…
What artist would you follow on Instagram? Kate Frizalis
What artist would you most like to have drinks with? Natalie Baxter
Which artists are at your dinner party table? Ruth Root, Tanya Aguiniga, Vija Celmins, Anna Hymas, Rochelle Botello, The Love Armata, Jenny Holtzer, Katie Cowan, Artemisia Gentileschi, Dana Schutz, Francesca Woodman, Pandemonia, Marilyn Minter, Lee Bontecou, Helen Frankenthaler, Adrian Piper, Mary Weatherford, Molly Larkey, The Heidies.
Shop all of Ashley's works here!
---
Caitlin Carney is a San Diego-based visual designer and abstract painter. Following graduating from college and faced with a turbulent period in life she turned to art. Largely self taught, Caitlin advances through every added layer of paint – dedicating herself to the exploration of the medium. We sat down with her to talk inspo, dream dinner parties, and artist misconceptions.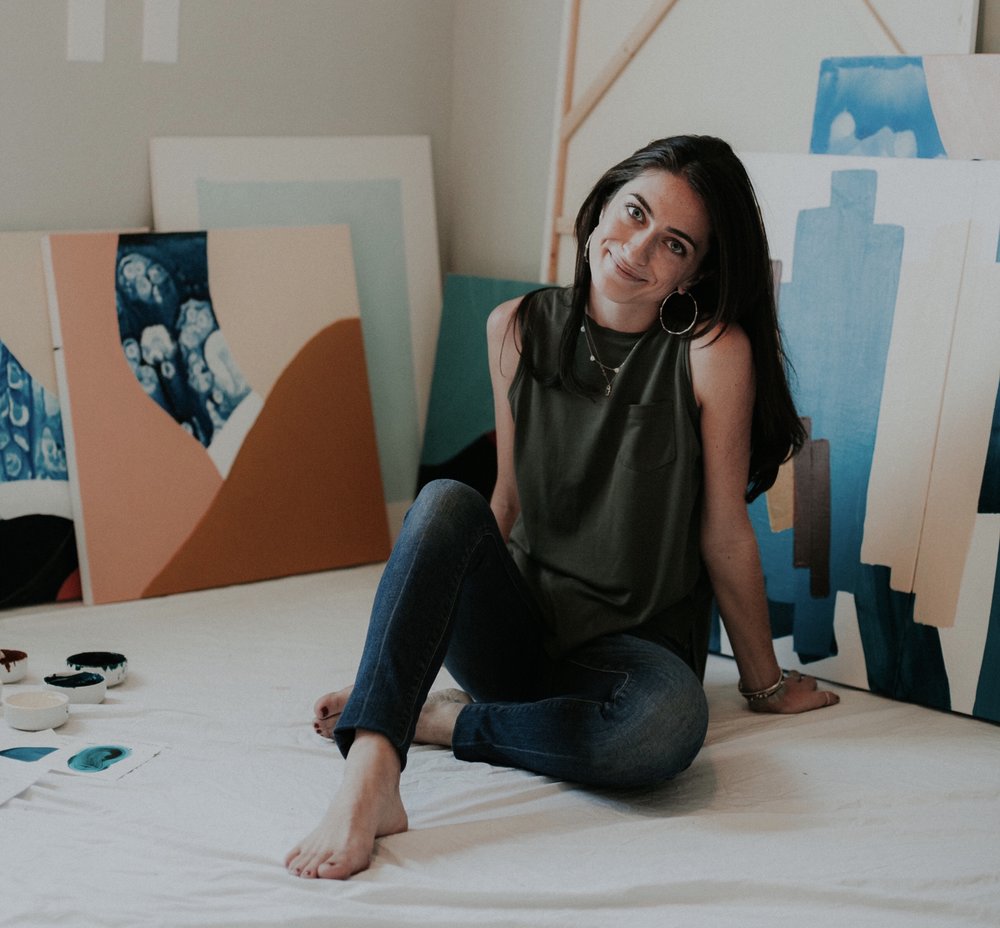 (more…)
---
Philly-based artist Liz Harkins is best known for her treatment of landscapes and other figurative subjects as if they were portraits. Her practice of methodically layering elements of her drawings to the point of transformation has given new definition to her work. We sat down with Liz to talk about all things art and collecting, including advice for new collectors and her dream artist dinner guests.
(more…)
---
Lauren moved to Nantucket from New York City almost a decade ago and has been taking breathtaking beach photographs ever since.  We sat down with Lauren to talk about advice for new collectors, her fantasy dinner table and unorthodox artistic inspiration!
---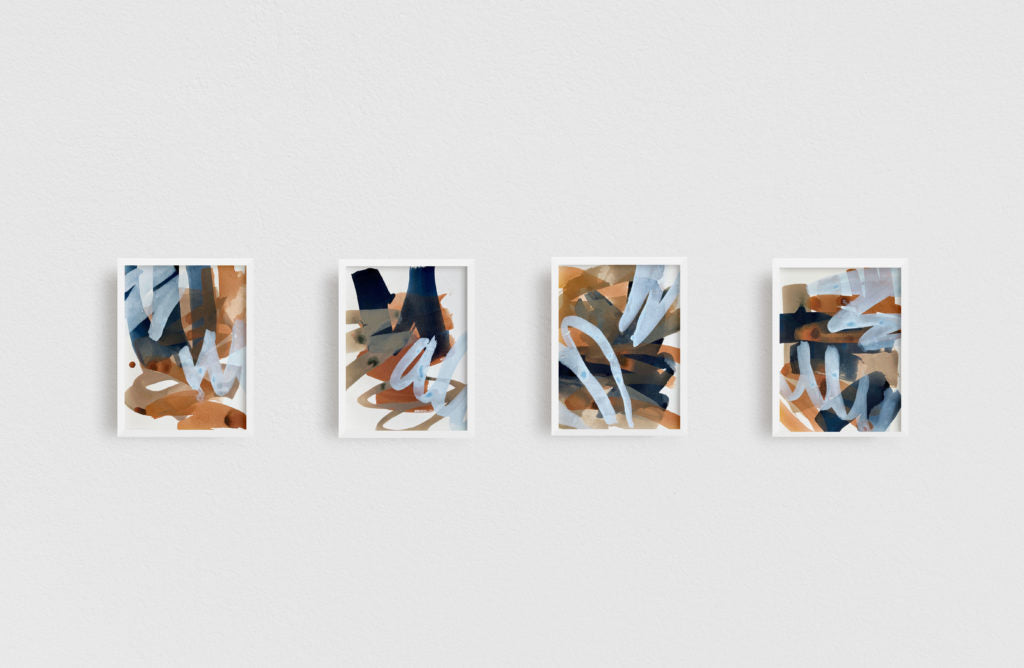 "Collect work that means something to you. Find work that resonates in your soul, that echoes your spark and feels like an extension of yourself. It will always speak to a part of you."  We asked Ellen Sherman about artist and collector misconceptions, finding inspiration in video games, and how she has connected with collectors in the far corners of the globe.
---